NEW Album: "BOOK OF BRIDGES"
---
---
---
---
---
---
---
Titel: BOOK OF BRIDGES
Artist: Beatrix Becker
Release Date: 25th of March 2022
Genre: World
Length: 58:46
Cat-Nr: HAC-022806
EAN: 4251959800173
Label: Hey!acoustics
LC: 29822
Cello: Rebecca Carrington
Guitar, E-Guitar: Nikos Tsiachris
Bass Clarinet, Clarinet, Piano: Beatrix Becker
Art Design: Lia Gloede
---
---
---
BOOK OF BRIDGES …tells musical stories of the search for hope and the longing for distant places, of joie de vivre and fragility, of magic and connection in times of separateness. Expressive, imaginative and reflective, Beatrix Becker weaves her own deeply moving sound, as a bridge-builder, between classical, jazz and world music.
Becker and fellow musicians, Rebecca Carrington and Nikos Tsiachris, create a sound aesthetic that can only be discovered in the metropolis of Berlin.
A rendezvous with impressions and emotions from all over the world, concentrated into one album in an intimate trio setting.
---
---
---
"I've rarely seen such an electrifying opening." (Ronald Klein)
---
Heike Fricke: "Brücken bauen mit Musik"; Rohrblatt 2/2022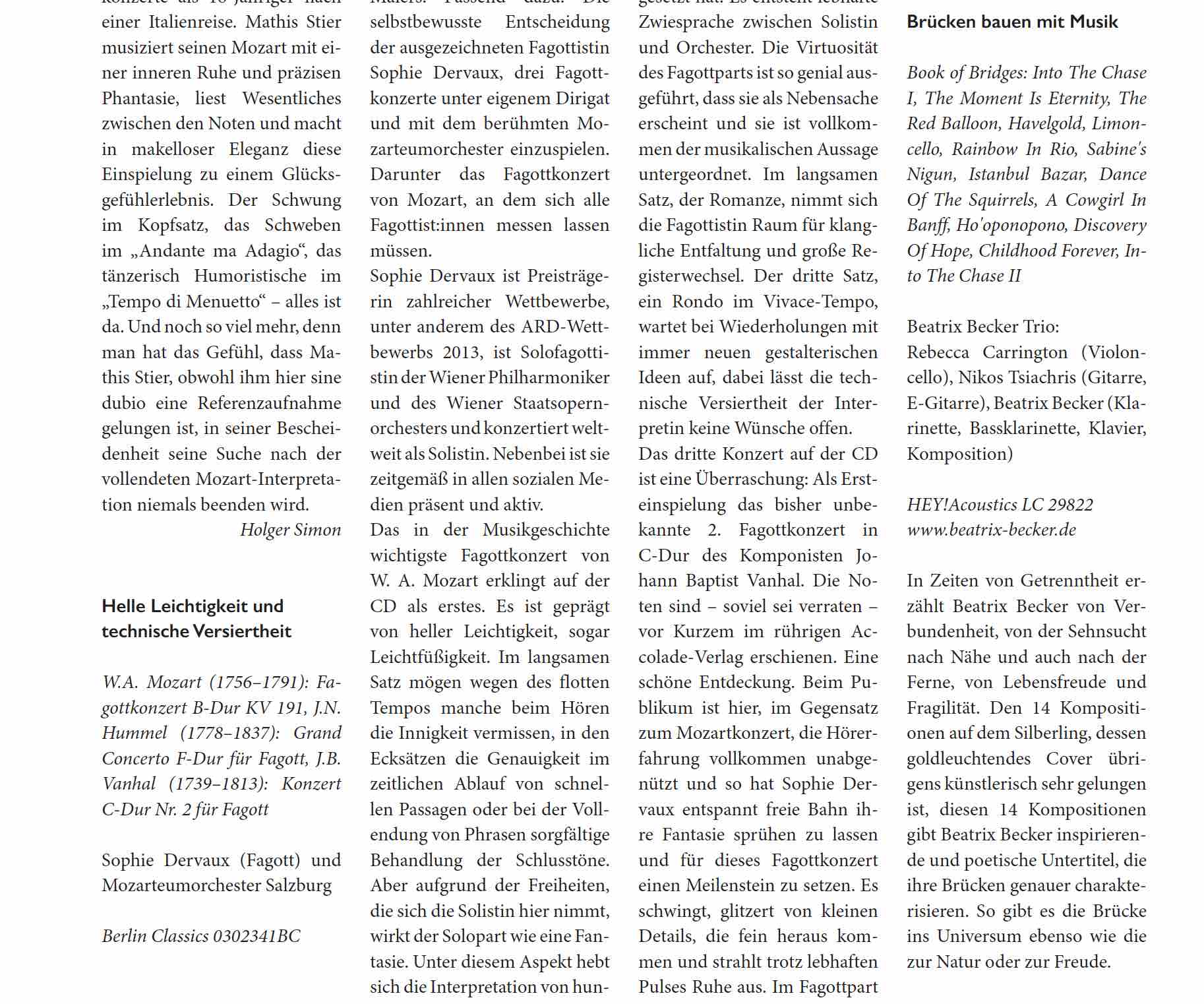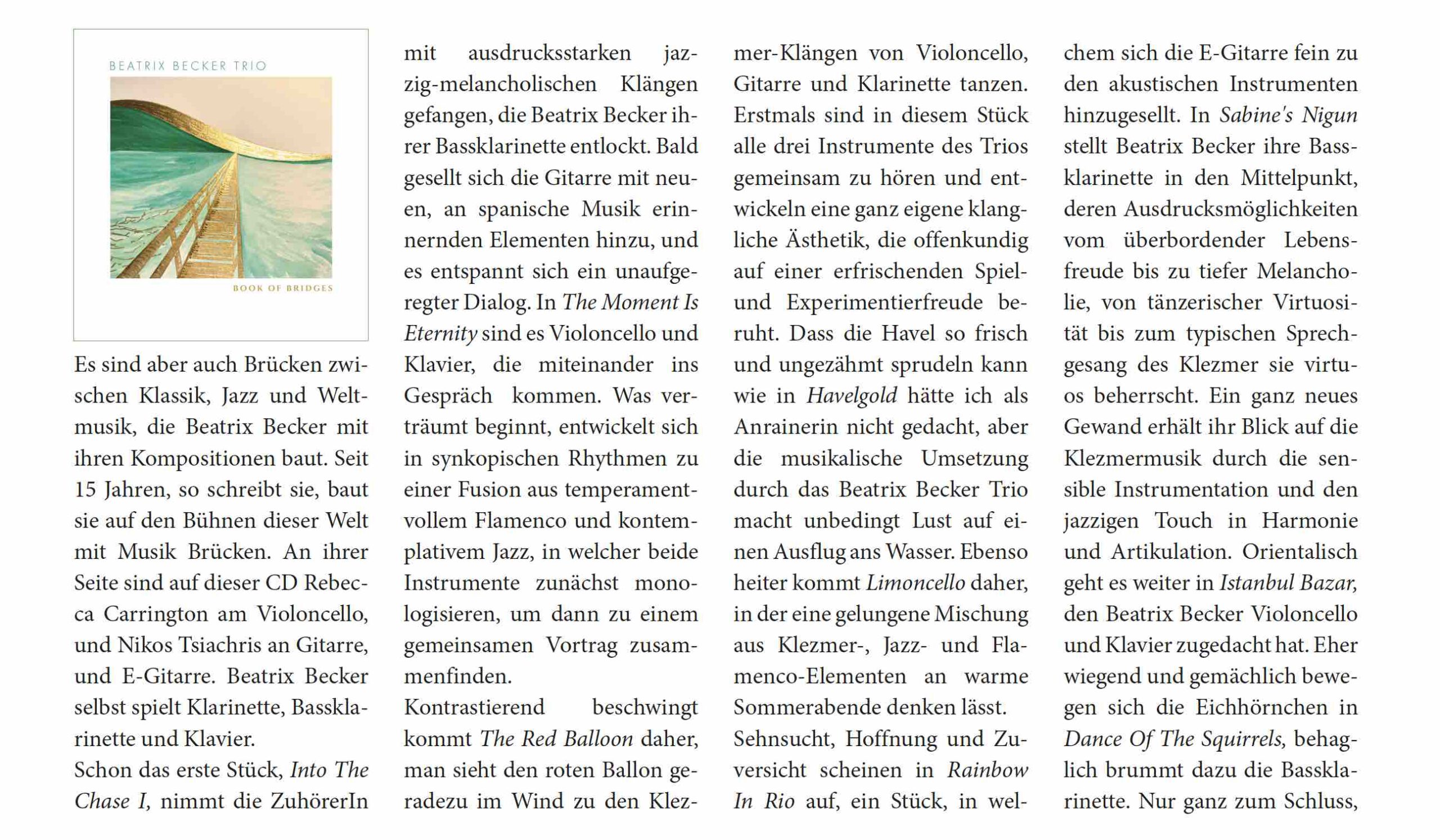 ---
Erik Prochnow: "Brücken zur Ewigkeit"; Folker 2/2022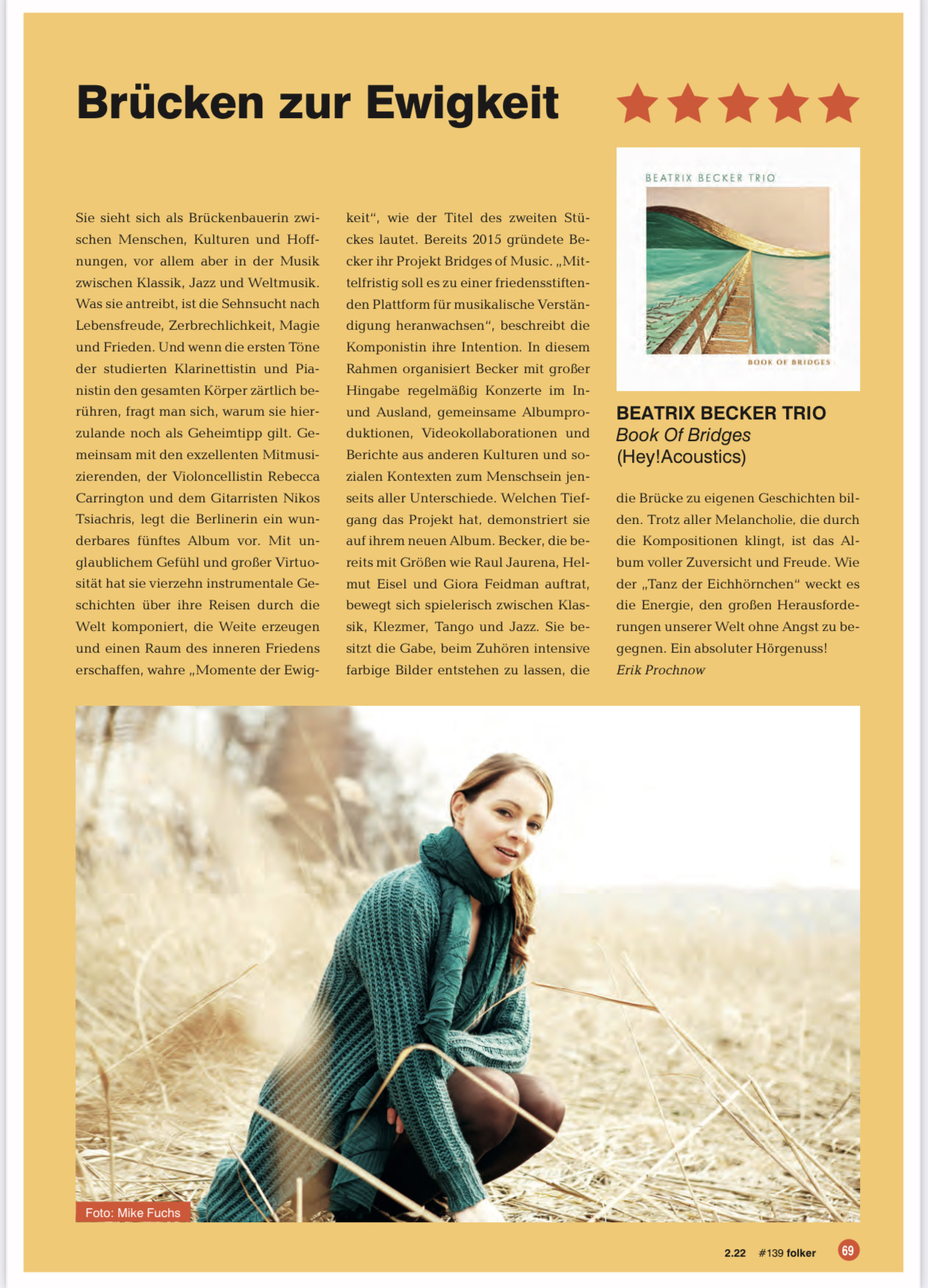 ---
Christoph Spendel: "Von Reisen und Brücken"; Tastenwelt 3/2022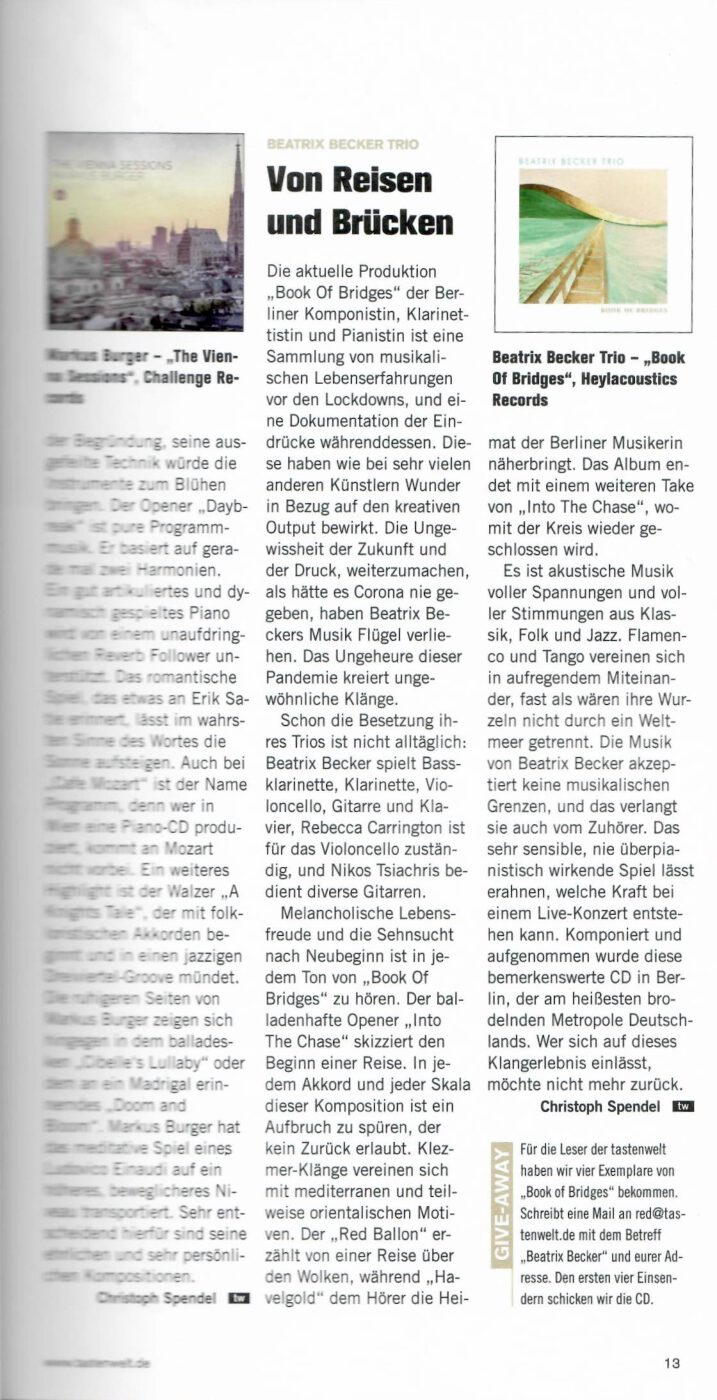 ---
---
---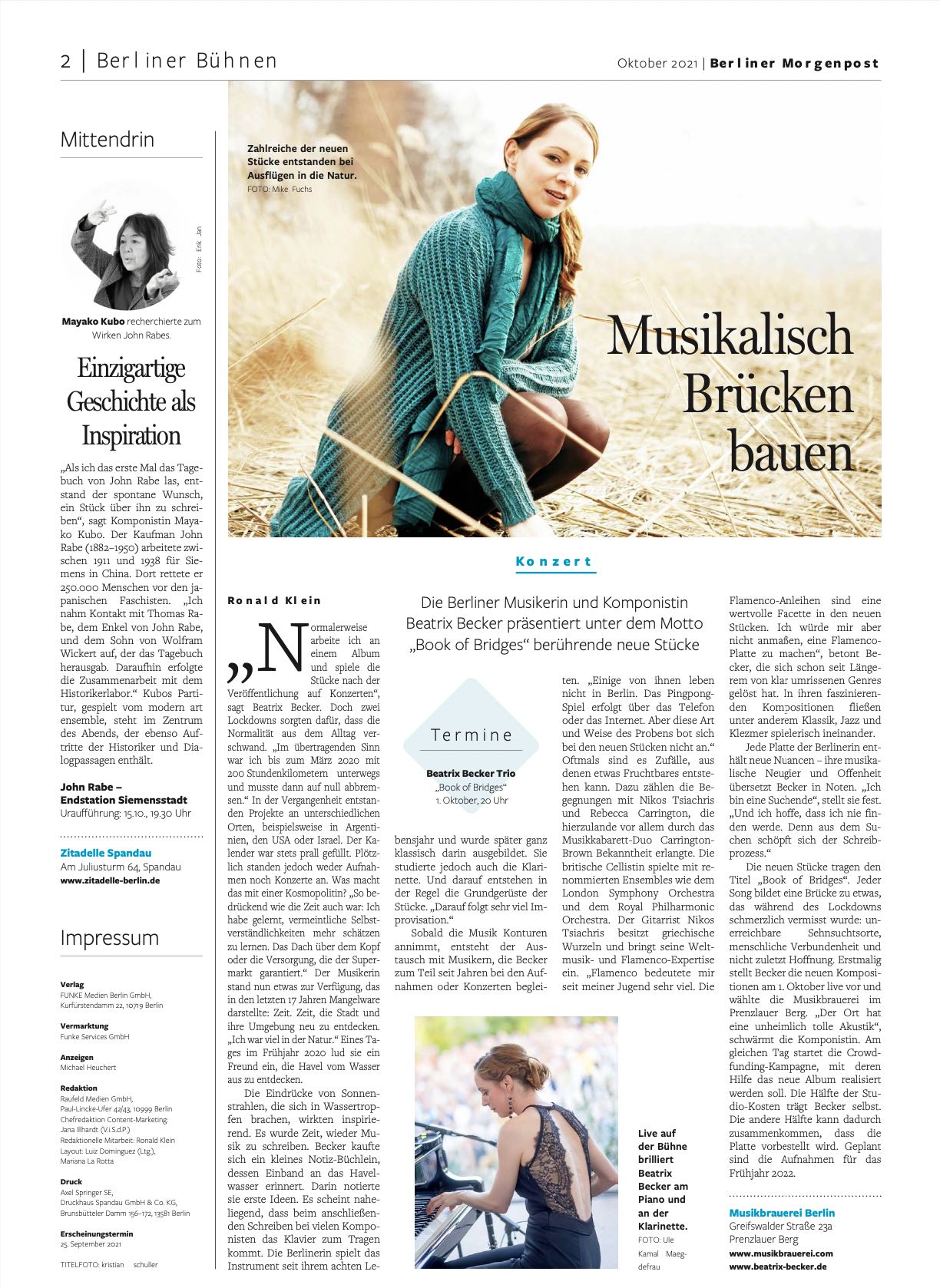 ---
---
---
I pre-ordered the Book of Bridges for myself and a friend. It is beautiful! And it always takes me on a journey. My friend's reaction is especially special. She is going through a tough time of caregiving with many challenges and is often mentally distressed. Now, every time she goes home from foster care, she listens to this very CD - and it helps her to get a new perspective, to feel joy again. The pieces and their interpretation have the ability to pick up and transform the mood of the listener.

Thank you for this!!!!!
---
My current favorite of your new CD is the dancing squirrels that lure me to the bridge of joy - a blessing in this otherwise dreary time!
---
A miracle bar, one floating on melancholy tangential waves yet heaping moments of happiness in joyous runs! Simply of complex beauty!
---